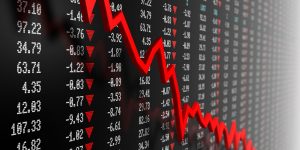 Since 2009, the stock market has pretty much gone straight up.
From a low of 676 on March 9, 2009, the S&P 500 stands at 2,090 as of June 21, 2016. That's a 209% increase over a period of just over 7 years.
And yet, things have been a little rocky so far this year.
The stock market dropped 9% from 1/1 to 1/20. It dropped another 6% from 2/1 to 2/11. And it fell 2% from 6/9 to 6/15.
We're still near all-time highs, but is it possible that we're at the top? Am I ready to predict the next stock market crash?
Of Course Not
I'm guessing you saw this coming, but no I'm not predicting the next big stock market crash.
The truth is that I have no idea what the stock market is going to do over the coming months, and neither does anyone else, no matter how loud they yell at you from the TV.
While the stock market is an incredibly powerful place to grow your money over the long term, it can be a roller coaster ride in the short term. Big upswings are followed by big downswings, leaving you to watch somewhat helplessly as your account values rise and fall.
And there's just no way to know what's going to happen next. We may very well be in for a big crash in the near future. Or we may not. But there are a few things to keep in mind no matter what.
Focus on the Long Term
Short-term drops on the stock market like we've experienced this year are the norm. 5% and even 10% drops are not uncommon.
Big crashes are also the norm. We experienced them in 2008, 2000, and many other times throughout history.
And through all of that, two things have held up:
No one has been able to consistently predict these crashes ahead of time. And remember, if you want to profit, you not only have to get OUT at the right time, but get back IN at the right time as well. Otherwise you'll miss the recovery.
Over the long-term, the stock market has always gone up. Not every day, every month, or every year. But you have always been rewarded for keeping your money in the market over the long term.
What to Expect Going Forward
I can't predict what the stock market is going to do, but I can give you two more things to keep in mind.
First, no matter what happens there will be plenty of ups and downs along the way. Expect that going in.
Second, investment advisor Rick Ferri, a man I admire greatly, foresees long-term stock market returns in the 7-8% range and bond returns in the 4-5% range. The exact outcome will almost certainly be different, but the point is that well-informed, reasoned experts still expect returns to be positive going forward.
By the Way…
Despite those scary stats at the beginning of this article, did you know that the US stock market has returned just over 3% for the year as of the time I'm writing this?
Just goes to show, even the times that feel scary can be profitable if you stay the course.
Image from activistpost.com