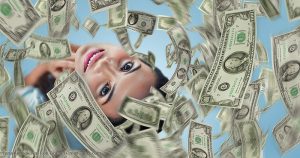 What if every dollar you made was put to work with the goal of maximizing your happiness? What would that look like?
It's honestly hard to imagine. In our consumer-driven culture, we're constantly inundated with ideas about things that should make us happy — a bigger house, a nicer car, the newest gadgets — and it's easy to waste a lot of money chasing the next dopamine hit.
It takes a conscious effort to step back from all of that and figure out which parts of our lives provide a deeper, lasting happiness. And with limited resources, it can be even more challenging to find the money to support those things.
But there are a few ways to do it, or at least to move in that direction.
What Provides Lasting Happiness?
While we often think that newer, better things will make us happy, research shows that we are actually much happier when we use our money to either buy ourselves time for enjoyable activities or buy our way out of un-enjoyable activities.
So, how could you use that information to optimize your money for happiness? Here's an example.
Let's say that you currently spend a lot of time at work, which is stressful and tiring, and you wish you had more time to spend with your kids, or to spend by yourself doing something like reading a good book or being outdoors.
One way to make both of those things possible would be to decrease your necessary living expenses. This could include small changes like cutting cable or dining out less, and it could also include big changes like downsizing your home or trading your car in for an older model.
However you do it, with less money required to support your daily needs, you could choose to spend less time at work or even switch to a less time-consuming job with a lower salary since you don't need as much income.
By focusing on how your financial decisions allow you to spend your time rather than what they allow you to buy, you're more likely to create a sustainable and lasting happiness.
Prioritizing the True Luxuries
Of course, not all "stuff" is bad. Some possessions really provide lasting happiness as well.
One of my favorite examples is your mattress. You spend so much time sleeping, and good sleep is so important to your overall well-being, that it might make sense to spring for a more expensive mattress that helps you get the best sleep possible.
But most people can't just go out and buy an expensive mattress. You might need to cut out or cut back on some of your other regular expenses so that you can save enough money to afford the mattress that you want.
And while that may feel like a sacrifice at first, in the long run you'll probably find that you don't miss most of the things you cut out. And with a good mattress helping you consistently get a good night's sleep, you might find that on most days you feel much better than you used to.
Whatever it is for you — whether it's a mattress, a good coffee-maker, a gym membership, or anything else — being frugal in other areas in order to afford that luxury could vastly improve your overall happiness.
Happiness First
We are all faced with a number of competing pressures. On the one hand, there's the pressure to make the "right" financial decisions that provide security today and build towards a sustainable future. On the other hand, there's the pressure to constantly upgrade your lifestyle and your career in order to show that you're "making it".
It takes effort to step back from all of that input about what you should be doing and make conscious choices about what you want and what makes you happy. But if you can do that, you just might be able to rearrange your finances in order to maximize the happiness you get from every dollar.
Image courtesy of: https://www.creditcards.com/credit-card-news/maximizing-cash-back-card-sign-up-bonus-tips.php