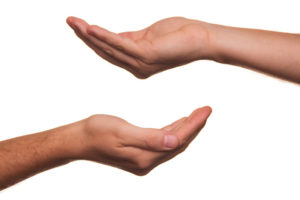 We've all heard the stories of people like Warren Buffett, Oprah Winfrey, and Bill Gates giving millions, and even billions, to charitable causes.
And while that's certainly admirable, it's hard to relate when you're trying to balance supporting your family, paying off debt, saving for retirement, and all your other financial responsibilities.
I work with a lot of clients who want to support the causes they believe in, but don't always have a lot of extra money to spare. And the good news is that there are plenty of ways to give, no matter how much money you have.
Here are six ways to support charitable causes, even on a tight budget.
1. Amazon Smile
Amazon Smile allows you to shop on Amazon just like you normally would – other than having to start on the special Smile site – and have 0.5% of every purchase go towards a charity of your choosing.
The truth is that this likely won't amount to a lot of money. It's essentially $0.50 going to charity for every $100 you spend.
However, it's money that wouldn't otherwise go towards charity at all, and your Amazon experience is much the same, so it's an easy way to make a small difference.
2. Charitably Inclined Credit Cards
Some credit cards offer programs that facilitate charitable giving. Charity Charge and Halo Card both donate 1% of every purchase to a non-profit of your choosing. American Express allows customers to donate points through their Members Give program.
But you don't need a card specifically linked to charity to use rewards points for giving. For example, Fidelity's Visa card provides 2% cash back on every purchase, deposited monthly right into your Fidelity checking, brokerage, retirement, or college savings account. You could simply take that money and donate it to charity yourself, increasing the amount that you're actually able to give.
3. Employer Match
Many companies offer programs in which they agree to match their employees' charitable contributions, up to a certain limit. This is often a dollar-for-dollar match, but in some cases your employer might double or triple your donation.
This is a great way to maximize the impact of your donations. A $25 donation can quickly become a $50 donation, and that can really add up over time.
The terms of conditions of these programs vary by employer, so you'll want to reach out to your Human Resources department to make sure you understand how to make a qualifying donation.
4. Gift as a Gift
Instead of agonizing over what to get a friend or family member for the next birthday or holiday, and possibly getting them something that they almost never use, you could consider donating to one of their favorite charities instead.
I've had friends donate to a food bank for my birthday and I loved it! The money is going towards a good cause which made me feel great.
5. Volunteering
Charitable giving isn't just about money! In many cases, volunteering your time and expertise is even more valuable.
This is especially powerful if you don't have much extra money to donate at this point in your life. Volunteering your time and expertise will allow you to make a big impact.
6. Donating Appreciated Securities
Are you trying to figure out what to do with all of that bitcoin burning a hole in your pocket? Certain charities are starting to accept bitcoin donations, which could be a good way to cash out and do some good at the same time.
In all seriousness, donating appreciated securities – whether it's bitcoin, stocks, bonds, or mutual funds – allows you to avoid capital gains, which results in a larger contribution, and still claim the entire donation as a tax deduction.
If you don't have much room in your budget, but you do have some investments that have appreciated over the past few years, this could be an effective way to donate.
Making a Difference
Charitable giving isn't limited to the ultra wealthy. There are plenty of ways to support the causes you believe in, no matter your budget.
Big or small, every contribution makes a difference.
Image courtesy of: https://pxhere.com/