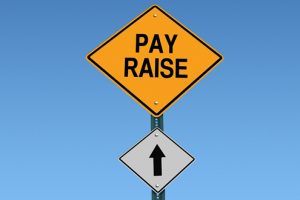 Most personal finance advice misses a crucial point.
Lost amongst all the calls to cut coupons and skip your morning coffee is the fact that cutting costs isn't the only way to get ahead.
In many cases, a raise can be far more powerful in helping you reach your biggest financial goals. And it may not be as hard to get as you think.
The Power of a Raise
Let's say you currently make $60,000 per year and you're able to negotiate a 10% raise (more on how to do this below).
Assuming that 25% of that new income goes to taxes, that means you now have an extra $4,500 to save each year, which is almost enough to fully fund an IRA.
Looking at it another way, that extra $4,500 represents a 7.5% return on investment, which is right in the range of what experts expect from the stock market.
So by negotiating a raise, you've given yourself a stock market-like 7.5% return. And unlike the stock market, that 7.5% return will be consistent year after year.
And if you're investing that $4,500 each year, you'll earn additional returns on top of your contribution. Assuming a 7% annual return, that investment will grow to $197,393 after 20 years and $454,828 after 30 years.
Plus the increased salary sets a higher baseline for future raises and for your salary at future jobs, making it more likely that your income will increase even further over time.
And all of that comes with pretty much no risk. As long as you present your case respectfully, the worst that happens is you get a no. And even then you'll have planted the seed, which may make it more likely that you'll get a raise in the future.
How to Get a Raise
Of course, the trick here is knowing how to negotiate so that you actually get the raise you deserve.
This can be intimidating for a lot of people, myself included! But the good news is that there are some simple strategies you can follow to strengthen your position and even increase your value in the eyes of your employer through the negotiation process.
My favorite resource on this topic is Ramit Sethi's Ultimate Guide to Getting a Raise & Boosting Your Salary. Yes, the title is a little hyperbolic, but the advice is practical and solid.
And remember, as long as you present your case well, the worst that happens is you get a no. There's little risk in giving it a shot.
Side Hustle for Extra Income
Getting a raise isn't the only way to increase your income. People are increasingly turning to side hustles as a way to make some extra money on top of their day job.
There are lots of ways to do this, from dog walking to freelance writing to website design. It doesn't have to take a ton of time, and even a little extra income can go a long way.
J. Money at Budgets Are Sexy has chronicled over 60 different side hustles real people have used to earn extra money. You can also check out the websites Fizzle and Side Hustle Nation for ideas, inspiration, and practical advice on how to get started.
Invest in Yourself
Cutting costs is often the easiest first step towards saving more money.
But over the long term you are your own best investment opportunity, and finding ways to earn more money can make a big difference in your ability to reach your biggest goals.
Photo from https://www.roberthalf.com